Click on an image to enlarge, then click the back button to return to this page.
Quilts with Pizzazz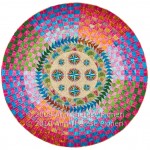 This is just an example of what can be created in this class
Ever wonder how original stunning quilts are created? How do the creators get their inspiration? In this class you will learn very simple ways to design stunning quilts which will be your own unique designs. This class will take you step by step through several easy, stress free techniques to help you create your own fantastic design even if you have never experimented with design before. We will also answer the question of how on earth will I ever piece my fabulous design and ensure that it hangs straight.
We will examine several different construction and piecing techniques, or you can fuse together if you prefer. We will also see numerous tools to use for drawing, different compasses, how to get that perfect circle and how to angle rays. We will also take a brief peek at several computer aids for designing your own quilts. If you have designs that you have roughed out on paper (and these can be very rough) and are unsure how to get them fully drawn or how to construct them successfully, please bring them. If you do not have any, no worries, as we will design several in class.
We will also discuss copyrights: why you may or may not want to have your original quilts copyrighted, cost, the process, and the best time to call the copyright office. This will be a fun & creative class! 1 to 3 day class.
Click here for supply list
Click here for class requirements
EQ7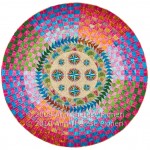 This quilt was entirely created in EQ! We will not be drawing this in class, this just shows the possibilities
Learn to draw blocks, design quilts, and scan your own fabric into EQ7 so that you can see how it will look in your quilt before you ever cut any of your precious fabric! Design your own Mariner's Compasses and New York Beauty Blocks and print each of your patterns identically! Or just add your own borders to a quilt you have already constructed. It is amazing to see what this program does!!!! Learn to use the random color button to watch your quilt colors change automatically till you find the exact colors you love for your quilt. Or learn to use the swath tool to easily draw curved flying geese. The possibilities of this amazing quilt program are endless!! This class can be customized to cover specific topics that your conference/guild/store would be interested in learning to optimize your use of EQ7. You will leave class with handouts of actual screen shots so you can replicate our classroom activities at home. Handout Fee. 1 to 2 day workshop.
Click Here for supply list
"This is a fantastic class. There are so many things I learned about EQ7 that I didn't know even after using the program for about a year. Ann answered all of our questions with ease. She was very patient with all of the little computer glitches. She kept us all up with her. There was no one left behind."

— Norita Alexander
"Great class! I have been playing around with EQ7 for awhile and knew there had to be more for me to access and do. This class showed me aspects of EQ7 that I didn't know existed. I am SO excited to get home and start creating my own quilts using the functions of EQ7. Finally, I am the creator."

— Linda Hughes
"I finally learned how to use EQ7 without any swearing on my part."

— Anonymous
EQStitch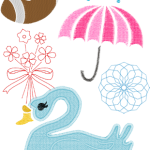 EQStitch is an auto digitizing program that is added to EQ7.
Digitize the designs you have drawn in EQ7 using the same tools you know and love from EQ7. Easy peasy! I beta tested EQStitch for EQ, so come and learn the true secrets of this digitizing program. Learn to auto digitize EQ designs creating machine appliqué, embroidery, quilting designs and redwork. Learn to put your quilting designs into embroidery format so that your embroidery machine stitches them automatically! Handout Fee. One Day Class.
Longarm Classes & Lectures

Happiness

Happiness Detail

Happiness Back

Please contact Ann for information on longarm classes & pricing. Also, I teach classes for quilting on domestic sewing machines or mid-arms.
Quilt As Desired – What Does That Mean?

Create beautiful quilting designs to enhance your beautifully pieced quilt top, or to use for a whole cloth quilt! We will discuss in depth several drawing methods and thought processes to determine what would best enhance rather than hinder your beautiful quilt tops.

This class will include an extensive trunk show, highlighting what to quilt in different situations. This class will apply whether you are quilting on a long arm, short arm, mid arm or home sewing machine. Please bring quilt tops if you are unsure what on earth to quilt on these.

We will also discuss marking, with marks that must be removed and those that do not, and the use of registration lines rather than marking the entire top. Class will also include an in depth discussion of threads, and thread weights and how this affects the quilt appearance as well as thread tension as it relates to different thread weights. 1 Day Workshop.
McTavishing & Beyond (certified teaching)

McTavishing Circle

McTavishing Circle Close-up

Learn the basic McTavishing method, mini-McTavishing and Cyclone McTavishing on a home sewing machine, plus flames, paisleys and curls and swirls with a McTavishing twist. Enhance your quilts with these wonderful machine quilting techniques! If you stitch on a mid-arm or long arm machine the techniques are the same, and your class knowledge will easily transfer to your machine. I learned to McTavish on a domestic home sewing machine, but have since purchased a long arm machine, so I can address both situations and teach on either a domestic or long arm machine. One Day Class.

Click here for supply list
Paper Piecing: Mariner's Compasses with Split Points

Ever wonder how to get those split points perfectly pieced as painlessly as possible? We will cover not only the actual piecing of these, but also the color selection process to make stunning points sing! Handout Fee.

Please Note: The 8 point Mariner's Compass will be the class project.
Machine Quilting I
We will create samplers in this class of all the wonderful things you can do with machine quilting: swirls & curls, leaves, circles (3 ways to create these), flames, spirals, headbands/paisleys, spirals, & feathers, including how to join feathers smoothly. 1 Day Class.
Machine Quilting II
Continue with more complex machine quilting to further enhance and perfect your skills! 1 Day Class.
Feathers & Lines On Caroline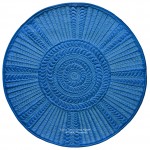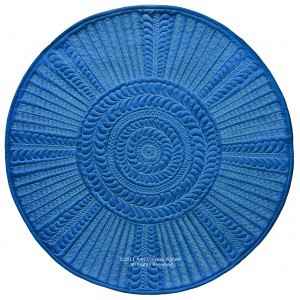 Are your feathers floundering? Stitching absolutely straight lines a problem? Come to Feathers & Lines on Caroline to perfect your feathers and learn to stitch straight lines, as well as spirals! A fun machine quilting class with a beautiful project! In this class we will be machine quilting the original design quilt of mine entitled Caroline. Students must also purchase the pattern for Caroline. 1 Day Class.
Feather, Feathers, and more Feathers
Learn to master the feather use it to beautifully fill any quilting space! We will cover the three methods to make feathers and learn how to join feathers seamlessly so no stops and starts are noticeable. Fill circular areas with feathers, curvy spines with feathers, and straight lines with feathers!
We will also learn to make the beautiful pearls that so often are used to fill the double spines of feather designs. 1 Day Class.
Lectures
Color: How to Create Stunning Quilts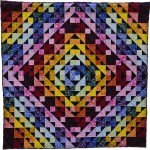 A fun and exciting lecture to aid you in creating stunning quilts! Why make a ho hum quilt when it takes just as much time to make an awww…how did you do that quilt? Learn some easy to understand and simple principles to aid you in future color selection to make your quilts have pizzazz. Even traditional quilts can be enhanced with fantastic color selection! Lecture & Extensive Trunk Show.
Note: This lecture pairs nicely with Quilts With Pizzazz.
Threads, Threads and more Threads

What weight of thread should I use?? 12 weight, 30 weight, 40 weight, 50 weight, or 100 weight silk? Why is this 30 weight a different size than that 30 weight? Untangle the confusion. This class will discuss not only the broad array of threads available but also explain why and when to use which type.

We will also discuss different tension settings and tricks to make each run smoothly through your machine to produce that beautiful quilt. Bobbin work will also be discussed and/or demonstrated. Lecture & Extensive Trunk Show.